Free Studio – All Free 20 Video Audio Tools FREE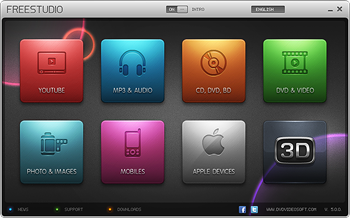 Free Video to DVD Converter / Free Video to Flash Converter/ Free 3GP Video Converter / Free Video to iPod and PSP Converter / Free Video to iPhone Converter / Free Video to MP3 Converter / Free Video to JPG Converter / Free Audio Converter / Free DVD Video Burner / Free Disc Burner / Free Audio CD Burner / Free DVD Decrypter / Free Audio CD Grabber / Free Video Uploader / Free Video Dub / Free Audio Dub / Free Video Flip and Rotate.
This free software is a collection of more than twenty different utilities designed to go beyond the limitations of the standard Windows operating system and provide you with new ways to enjoy music and videos the way you choose. If you see a great video on website and want to access it offline, too, then these utilities can make that happen. You can download footage and audio tracks from websites, you can convert any of your entertainment files into different formats for greater versatility, you can even save them onto different formats of recordable media, such as CDs, Blu-Rays, and DVDs. All of this can be done without reducing the quality of the audio or the image while also giving you the option of extracting the things you want from the footage so you can enjoy it the way you want. Not only does this free software allow you to get the most of all your favorite footage from websites, it also lets you do this in a convenient way. Instead of only allowing you to work with one video or audio track at a time, you can do batches based on your favorites list, playlists, or selected channels at Video websites. Plus, you can do everything you want to these files using a single application. With Free Studio, a single piece of software contains all of the utilities you might want in a single download.
RELATED FREEWARES
[catlist id=5]
[catlist id=18]