FREE A-squared Free SOFTWARE
Not just any scanners, but a combination of two world class products – the a-squared Anti-Spyware, and the Ikarus Anti-Virus engine. Latest tests approve that both are cutting edge in Malware detection. No doubling of the scan duration as it would be the case with two separate scanning programs. Considerable performance improvement is possible thanks to the integration of the two engines on the lowest level.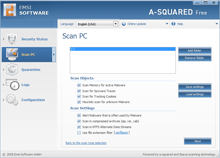 Trojans and Backdoors provide strangers with access to your PC. Once a Backdoor is installed, an attacker can take full control of your computer. A Trojan is best described as a piece of software pretending to be something it is not – they often contain Backdoors, and usually arrive as email attachments. A Keylogger is a type of Malware that invisibly records all keyboard activity. a-squared Free specializes in recognizing and eliminating these types of Malware.
RELATED FREEWARES
[catlist id=12]
[catlist id=163]
freewaredownload.in FREE SOFTWARE ALL FREEWARE DOWNLOAD A-squared Free | Contact us | Disclaimer